Egyptian Government had recently approved a project to upgrade the famous Cairo Ring Road, into 12-16 lanes, with an estimated cost of USD 400 mln within 24 months by the mighty delivery of its armed forces engineering corps.
Regretfully, this is a reputation of the 1940 famous and notorious Los Angles 405 Freeway; which became an obstacle rather than a solution. Till date ; no success had been achieved to resolve its momentum in LA Urban Profile
There are many voices that could not reach the decision makers on the transformation of the Egyptian Capital Metropolitan.. The uncontrolled growth which swallows all attempts to upgrade with tremendous cost; should be diverted to other directions across the vast country.
Ring Roads are no longer encouraged or taken as a sign of excellence, as they interpret poor planning rather than successful transportation. Ring roads force the socioeconomic patterns to reshape without effective controls, which disturb any urban planning strategies. Also, they defeat the multi-centric or multi-nodal approaches, which most Metropolises work towards.
During the last decades, the Egyptian Urban Community had gone through many failed attempts to align the global visions to the administrative authorities and lobbies. It is fair to note that Egypt faces lots of challenges, which drive the civic administration towards unsustainable urban decisions. On parallel, the administration require swift solutions with simple equations of successful transformation.
The urban migration to Cairo as the biggest metropolitan in Egypt does not mean to neglect the growth of others metropolises. Regional development should be more effective to empower the transformation of other dozen of metros and large cities. However, the more delay in launching other Egyptian Metropolises, the chaotic to be.
Pedro Ortiz had suggested a mental map of Cairo Metropolitan that did not attract the proper attention from both Formal or Professional Urban Communities. To achieve the Balanced Urban Development in a 7000 years old congested large city, you need to share the global experiences and efforts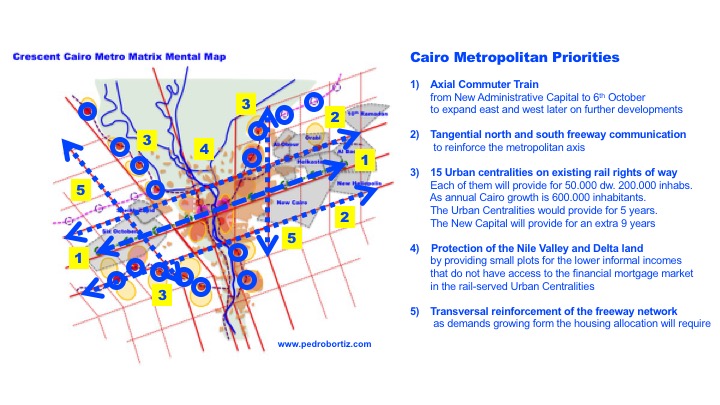 Regretfully, the transportation strategic plan (I hadn't read) had followed the questioned urban development plan of Greater Cairo. Apparently, there is no serious analysis of the social economic or sociopolitical impacts of transportation; which was one of the catalysts of the 2011 unrest and regime change.
Till few decades, many Arab and African cities had echoed the 1960th Cairo urban model of social mix and reactive solutions. The global strive to enhance economies had encouraged many of these cities to look for other models. Some we great, others were great failure. The Urban Debate is a legacy to respect and contribute to. The metropolitan global is inevitable, but not limited to capital cities. Yet; the spread of concentrations and density had always proven healthy, cost effective and sustainable as well.
Finally, Greater Cairo should be managed as a metropolitan unit; whereas one administration will run it; with appropriate hierarchy and subdivisions. Currently; it is a three main cities; each has its own structure. Yes, there is a singular urban planning authority for it, but very much challenged and driven by bureaucracy and conflicts of interests.